IDE Talks: Katerina Dalacoura, "Turkish Discourses on Civilization, Modernity and Islam"
14 Ekim 2016 Saat: 19:00

-

21:00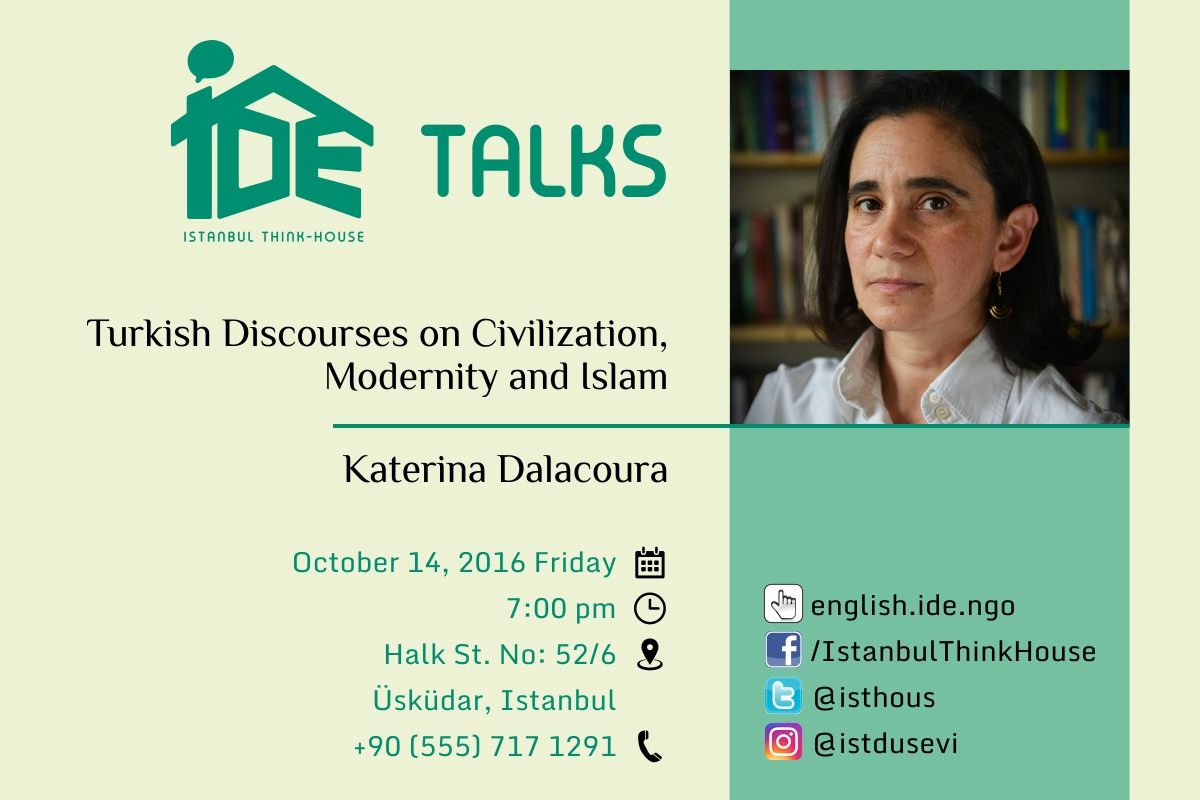 We are kicking off our talks series IDE TALKS of our new event year at our new location this Friday, October 14 at 7 pm.
Dr Katerina Dalacoura,* an LSE scholar in International Relations, is going to speak on "Turkish Discourses on Civilization, Modernity and Islam,"* and she is going to explore how and why the contemporary Turkish intellectual discourse still revolves around the issues of civilization and modernity and what this means for larger intellectual debates.
All our friends are cordially invited to this interesting discussion.
*Dr Katerina Dalacoura is Associate Professor in International Relations at the London School of Economics and Political Science. In 2015-16 she was British Academy Mid-Career Fellow. She previously worked at the University of Essex and at the International Institute of Strategic Studies. Her main areas of expertise are in: human rights, democracy and democracy promotion, in the Middle East; political Islam; and culture and religion in International Relations. She is author of Islam, Liberalism and Human Rights: Implications for International Relations (London: I. B. Tauris, 2003) and Engagement or Coercion: Weighing Western Human Rights Policies towards Turkey, Iran and Egypt (London: Royal Institute of International Affairs, 2003). She has published in the Review of International Studies, Millennium, International Affairs, Democratization, International Studies Notes, Third World Quarterly and International Relations and has authored a number of chapters in edited books. Her book, Islamist Terrorism and Democracy in the Middle East was published by Cambridge University Press in 2011.
** The tired old categories of 'East' and 'West', often taken to mean 'Islam' and 'modernity', are still with us today and nowhere do they appear more alive and well than in contemporary Turkey. Political discourse over the past fourteen years of rule by the Justice Development Party (AKP), has become increasingly defined in terms of 'us' versus 'them' but this way of thinking goes back to long before the AKP, since the beginning of the Young Turk era and the establishment of the Turkish Republic in 1923. The paper takes the above as its starting point and does not dispute it; however, it tries to move beyond it. The question it deals with is straightforward: do discourses/narratives/collective imaginaries exist in Turkey which question, overcome and ultimately undermine the categories of 'East' and 'West'? The paper does not conduct a theoretical exercise but investigates, empirically, the evolution of concepts and ideas of self-identity. It does so by examining a number of intellectual figures and trends of thought who question 'East' and 'West'. The paper also moves beyond intellectual discourses to focus on literature, art, music, urban space. It also delves into public opinion and representations of gender and identity at the social level.
For Facebook RSVP, please visit: https://www.facebook.com/events/1269684186395564/
Title: Turkish Discourses on Civilization, Modernity and Islam
Speaker: Dr. Katerina Dalacoura ,
Date/Hour: October 14, 2016 Friday @ 7:00 pm
Address: Halk Street Building No:52 (Apt 6), 34672 Üsküdar, Istanbul (3rd Floor of the Building where Gökkuşağı Pet Shop is located, next to the Enerjisa's Building)
Googlemaps Shortlink: https://goo.gl/maps/wR9wGKzYXhD2
Web: (page currently under construction) http://ide.ngo/event/dalacoura/
Facebook Event Page: https://www.facebook.com/events/1269684186395564/
Contact Phone: +90 (555) 717 12 91
Istanbul Think-House
To join our Email Group: https://groups.google.com/forum/#forum/istanbulthinkhouse/join
If you'd like to email us: contact@ide.ngo
To like our Facebook page: https://www.facebook.com/IstanbulThinkHouse
To follow us on Twitter: https://twitter.com/isthous
Our Instagram account: https://www.instagram.com/istdusevi/
Our new address: Halk St. No 52 Apt 6 34672 Üsküdar, Istanbul (GoogleMaps: https://goo.gl/maps/kv2vkfj5dXu)
Directions: When you exit Marmaray-Uskudar station towards Hakimiyeti Milliye Street/Valide Mosque, keep right, pass Valide on your right, and walk for around 450 m until the roundabout where Niyazi Bey Restaurant and Türkiye Finans are located. At the roundabout, take the first exit to your right onto Halk Street and you will walk uphill for 350 m, keeping right. That street goes up to Doğancilar Park and Musahipzade Theater. Once you see BIM discount store on your right and ŞOK discount store across from the street, check the building number on your righthandside and once you see no 52, you are right there. Come straight up to the 3rd floor, Apt 6.